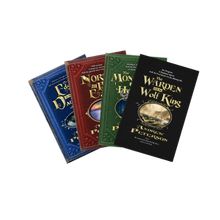 The Wingfeather Saga is a series of books by Andrew Peterson. The first book is called On the Edge of the Dark Sea of Darkness, the second book is North! Or Be Eaten, the third is The Monster in the Hollows, and the last is The Warden and the Wolf King. There is also two more side books based on the series, Pembrick's Creaturepedia, and Wingfeather Tales.
Ad blocker interference detected!
Wikia is a free-to-use site that makes money from advertising. We have a modified experience for viewers using ad blockers

Wikia is not accessible if you've made further modifications. Remove the custom ad blocker rule(s) and the page will load as expected.